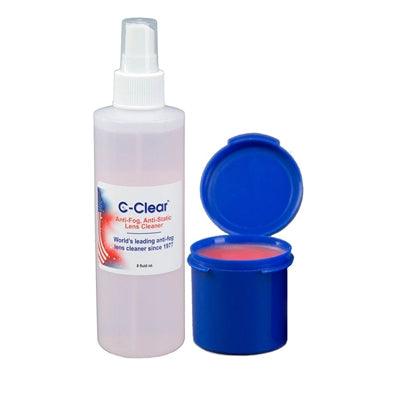 Industrial Safety Glasses Anti-Fog
C-Clear anti-fog products are
perfect
for use on
Industrial Safety Glasses --
glass, plastic and polycarbonate lenses. C-Clear
STOPS
fogging
and helps
prevent dust
from adhering to the lenses. Perfect for any industrial applications. Anti-fog does not adhere to AR (anti-reflective) coated lenses, unless the AR coating has worn off from misuse or handling.
FULL MONEY BACK GUARANTEE
covers all of our products for 30 days from purchase. We also can put together any quantities you need for your business, simply call and ask us for special quantity pricing and/or private labeling.
Shipping -- We use USPS and UPS for most shipments. We do not mark up the shipping costs. We can use your UPS or FedEx account for shipping.
SDS for C-Clear Gel and Spray
---
New Jersey American Water Anti-Fog Product Test
We tested your gel and spray against the following products:
Bausch & Lomb Fog Shield XP Spray
Bausch & Lomb Fog Shield 2-Step Wipes
MSA Sightgard Wipes
Fog Buster Spray
Fog Buster 2 -Step Wipes
Your gel was the best we tried and the spray was the 2nd best. It was reported to me that the gel lasted up to 3 days in the field without the workers safety glasses fogging up. The spray lasted a full day in the field. The best the other products did was up to 4 hours before the lenses fogged. I will be supplying this information to all of our locations within New Jersey as well as all of the other American Water locations around the country.
--- Bob Charney, CUSA, Chairperson NJUA Safety & Health Committee, Sr. Specialist ORM, New Jersey American Water